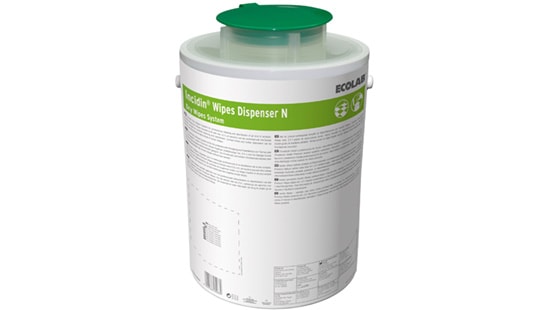 Incidin™ Wipes Dispenser N
Resealable wipe dispenser for Ecolab Incidin™ Premium Wipes & Incidin™ Premium Wipes HygPack; completely airtight; compatible with Ecolab Incidin™ Environmental Hygiene products; transparent cover with standard green cap.
Product Details
Easy to fill using the proven Ecolab dosing technology (DG1/DG3) or a manually prepared application solution
NEW! Transparent cover to check the remaining level
Stable and resealable
Stability time: up to 28 days
Safety with color-coding
The use of color-coding can be used to mark a clear distinction between different kinds of disinfectant as well as between different areas of use.
The cover caps are available in green (standard), yellow, blue and red (all optional).
Reprocessing of the Incidin™ Wipes Dispenser
To prevent contamination of the contents, it is recommended to clean and disinfect the inside of the bucket and the cover before inserting Incidin™ Premium Wipes and fresh impregnation solution. Reprocessing of the dispenser can be performed either manually or automatically.
After this procedure has been completed, the Incidin™ Wipes Dispenser N can be refilled. The disinfectant solution must be prepared with water of drinking water level quality. The Incidin™ Wipes Dispenser N can be used with selected Ecolab Incidin™ Environmental Hygiene agents for a maximum duration of 28 days.
MANUAL REPROCESSING
Remove remaining wipes and liquid from the dispenser

 

Pre-Cleaning with hot water (50 – 60 C)* and dry using a disposable wipe

For cleaning take off all removable parts of the dispensing system
(the ring on the lid, wipe dispensing lid, closing lid). Clean the bucket  
and lid with water or a cleaning solution (all purpose cleaning solution)

Thoroughly disinfect the inner surface of the bucket, the lid, as well as the lid opening inside and outside with an alcohol-based disinfectant wipe, e.g. Insides™ N. The surface should be fully moistened. Let it dry.
AUTOMATED REPROCESSING**
| | | | |
| --- | --- | --- | --- |
|   | Remove remaining wipes and liquid from the dispenser |   | Clean and disinfect the bucket, dispenser and lid by using an automated washer disinfector, e.g. Sekumatic™ FRE as cleaner and Sekumatic™ FD for the disinfection step, Sekumatic™ FDR and Sekumatic™ FKN. Alternatively reprocessing is possible by selecting the "shoe program" using, for example, a mild alkaline cleaner such as Sekumatic™ Proclean.  |
*according to DVGW-recommendations W551
**the temperature should be kept below 65 C during the entire process, including drying