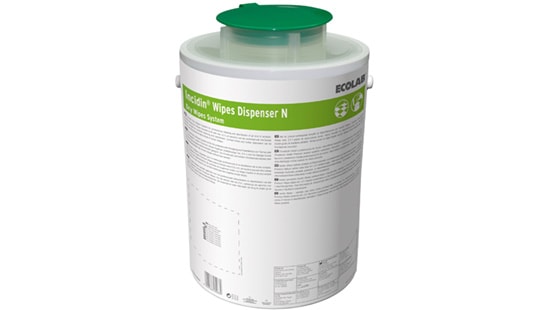 Incidin™ Wipes Dispenser N
Resealable wipe dispenser for Ecolab Incidin™ Premium Wipes & Incidin™ Premium Wipes HygPack; completely airtight; compatible with Ecolab Incidin™ Environmental Hygiene products; transparent cover with standard green cap.
Product Details
Easy to fill using the proven Ecolab dosing technology (DG1/DG3) or a manually prepared application solution
NEW! Transparent cover to check the remaining level
Stable and resealable
Stability time: up to 28 days
Safety with color-coding
The use of color-coding can be used to mark a clear distinction between different kinds of disinfectant as well as between different areas of use.
The cover caps are available in green (standard), yellow, blue and red (all optional).
Please see sell sheet for ordering information.