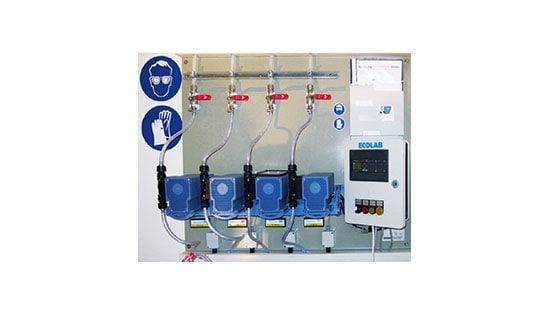 Ecolab Conveying System
The conveying system serves to supply machine-integrated or immediately adjacent day tanks / storage containers with cleaning and disinfection equipment. The conveying system realizes the fully-automated filling of day tanks with process chemicals from delivery containers by means of electro-motorized membrane pumps. Day tanks and delivery containers are connected with the system drive to reflect their levels. Defined low levels trigger re-conveyance or notification and external signaling. The operating conditions are shown in the drive display, and the system parameters can be changed and the notifications acknowledged. All processes are monitored, levels that are too high are reported and in the event of malfunction, the system segments are blocked.
Highest level of operational safety
High degree of efficiency through the use of efficient conductivity systems
Guaranteed reliability
EQUIPMENT DETAILS
For servicing (maintenance as per RKI, etc.), a full service portfolio will be available to you.
Email: technischer.service@ecolab.com
Fax: +49 (2173) 59989806