Improving sustainability performance
 at Lindström's Luumäki plant

The Situation
Lindström, one of the leading textile service companies in Europe, washes around 1 million kilograms of textiles each year in  Luumäki, Finland. 
Roughly 10 to 15 percent of the textiles washed in the plant are garments with reflective stripes, an important feature in different types of workwear and personal protection clothing.
Cleaning these textiles is tough work. Industrial soiling, such as mechanical oil, soot, or dirt mixed with oil, requires a highly alkaline washing process. At the same time the reflective stripes on these garments are very sensitive to alkalic water conditions and tend to lose their reflective properties after only five to ten washes, whilst the garments are still in perfect condition to be used for another 20-25 cycles. 
In an attempt to solve this challenge, Lindström decided to partner with Ecolab to improve the washing process for garments with reflective stripes, aiming to decrease waste while improving the textile lifecycle.
Together we were able to increase the lifetime of reflective stripes by an additional ten cycles, resulting in an annual savings of € 40,000.
Together we were able to increase the life time of reflection stripes by additional 10 cycles and save at least € 40k yearly.
The Solution
Together we selected the Luumäki plant to implement our Performance Industrial washing solution, specifically designed to meet the special washing needs of industrial workwear and improve the longevity of reflective stripes. Combining a carefully selected surfactant mix, patented soil removal technology and a new, gentle alkaline booster, the program removes challenging industrial soiling at 60°C without removing the reflective properties of the industrial workwear.
Through Performance Industrial, the Luumäki plant supports Lindström's commitment to responsible production and consumption. With this program, Lindström  has also created additional value for its customers while providing workwear that shines brighter, is more wear-resistant and generates far less waste in comparison to conventional washing programs.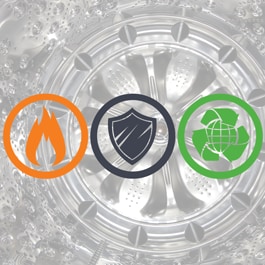 The IMPACT
Lower energy consumption
The lower temperature washing process and reduction of re-wash saves 124,000 kWh/year (equivalent to the annual energy use of 6 people). This reduces the overall energy consumption at the plant by three percent.

Longer lifecycle for reflective stripes
Textiles with reflective stripes can be washed at least ten times more with a special washing program developed together with 3M, saving Lindström around € 40.000 per year.

Less waste
Increasing the reflective stripes' lifecycle improved textile strength loss by 59 percent and reduced chemical damage to nearly zero.

Related Customer Success Stories
Visitors who viewed this story also viewed
This is a carousel. Use Next and Previous buttons to navigate, or jump to a slide with the slide dots.