Ecolab recognises the unique challenges faced by food retailers. We provide a wide variety of market-specific products and equipment, customised on-site service and training — all focused on elevating our customers' food safety practices and operational efficiency.
With Ecolab's Food Retail Programme your customers, brand and bottom line are protected.

INNOVATIVE  PRODUCTS
Unique food retail challenges require specialist cleaning and sanitation products. Ecolab Food Retail Services has recognised these needs and developed an innovative high performance product range to ensure excellent cleaning results, efficiency and safety in usage - all in the most sustainable way.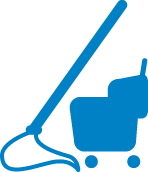 EQUIPMENT
Partner with Ecolab and you'll have access to equipment to optimise your cleaning processes and increase employee safety. Our sophisticated dispensing systems help you to save money and improve cleaning results by ensuring exact dosage and an economical usage of product. And all this with a minimum environmental impact.

SERVICE
Ecolab has the geographic reach to make superior field service a reality no matter where your retail store is located. Every Ecolab FRS associate has been trained to follow the same rigorous global protocol, with the added stewardship of adapting to local and regional markets. Our Food Safety Audits and Documentation can be customised to your store requirements to ensure the health of your customers and your business.
Our commitment to you is to provide qualified, exceptional field service – wherever and whenever it is needed.
TRAINING
Regularly scheduled employee training can make the difference between a positive customer experience and a bad one, a delicious meal and a food safety problem, or a loyal customer and a lost one. Adding a training cycle has shown to help the Food retail service to significantly raise their performance on food safety evaluations. We also offer detailed, multilingual training materials that illustrate proper cleaning and sanitation procedures.