Demonstrating the Power of Safety and Sustainability for a Private Energy Company
Insight
Delivering energy as safely and sustainably as possible is a priority for one of the largest private energy companies in Mexico. One of its local power plants is a prime example of how the company has put these commitments into practice.
The plant relies on municipal wastewater for its electric generation process. It had been using chlorine gas to remove contaminants so the water would be clean enough for use in the cooling tower and reverse osmosis (RO) system, which removes impurities through filtration. While this approach kept microbial growth in check, it required large amounts of biocides and weekly replacement of chlorine gas cylinders — a high-risk, two-person job.
In addition, the extensive biocide use had a negative impact on the performance of the RO membrane and its ability to filter the wastewater. To rectify this, the plant had to take the RO system offline for washdowns six days a year, which led to a loss in production. The plant needed a pre-treatment solution that was better for the environment, worker safety and productivity.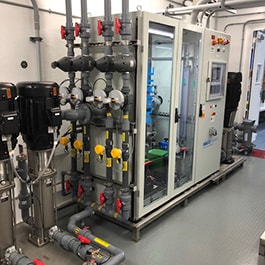 Innovation
Nalco Water, an Ecolab company, recommended the Purate™ chlorine dioxide program, which disinfects and treats water, safely and securely. Purate™ is designed to maintain water quality without the use of large quantities of biocides, while an online monitoring system enables plants to correct fluctuations in water quality in real time. Purate™ is part of the plant's holistic approach to water treatment. This includes two other Ecolab digital solutions that promote the efficient use of water and energy: 3D TRASAR™ Technology for Cooling Water, Boilers and Membranes and the OMNI™ Program, which optimizes heat transfer to ensure reliability.
Impact
As a result of the switch to Purate™ Technology, the quality of the plant's process water was enhanced, and its biocide use was greatly reduced. Energy use and costs declined, and safety and productivity were improved through the elimination of weekly gas cylinder replacements and a reduction in RO system washdowns. All of these benefits help support the customer's commitment to minimizing the environmental impact of its operations while meeting the needs of its customers in a safe and sustainable manner.
As a result of the switch to Purate™ Technology, the quality of the plant's process water was enhanced.

Reduced energy consumption by
2,800
MWh
Reduced chemical usage, saving
$136,000
Increased availability of water for gas turbine
$41,000
Eliminated chlorination system maintenance and 60% reduction in RO washdowns, saving
$30,000
Improved employee safety led to a
$58,000
reduction in PPE spending
Related Success Stories
This is a carousel. Use Next and Previous buttons to navigate, or jump to a slide with the slide dots.
No related success stories were found.