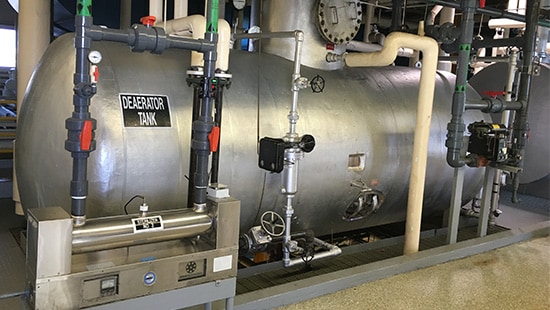 Pre-Boiler Corrosion Control
After pretreatment, corrosive gases such as carbon dioxide and oxygen must be removed from the feed water system. Mechanical deaeration can remove these corrosive gases, especially oxygen, reducing them to levels 10 ppb. Considering the corrosive potential of oxygen such as pitting, equipment downtime and damage to the boiler system, it is highly recommended to remove all trace levels of oxygen.
More Information
Chemical removal is the last opportunity to prevent oxygen entering the boiler. Nalco provides combination of liquid and solid chemical scavengers and passivators that not only prevent oxygen ingress but also help form a filming barrier that further prevents oxygen attack. Nalco solutions also have required regulatory approvals for applications where steam is used for direct food contact (FDA applications).
Nalco Water Oxygen Scavengers:
ELIMIN-OX™
SUR-GARD™
Various blends of powder and liquid sulfite suitable for your application