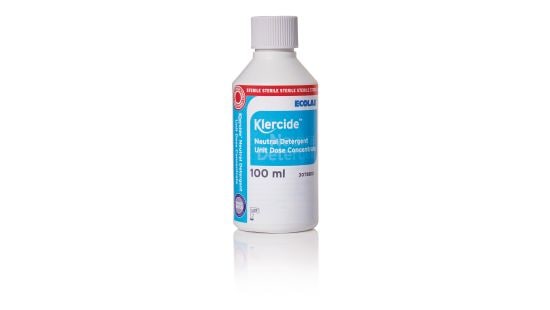 Klercide™ Neutral Detergent Unit Dose Concentrate
Ecolab Klercide™ Neutral Detergent is 0.2 micron filtered then filled and double bagged in a Grade C / ISO Class 5 cleanroom before being terminally sterilized by gamma irradiation. The product is a sterile detergent concentrate, to be diluted at a 1:49 ratio, and ideal for large surfaces.


Features and Benefits
Use: Daily cleaning for large and small surfaces, and for use following excursions and shutdowns.

Format: Available in a capped container. This format is double bagged.

Compatibility: Compatible with an extensive range of cleanroom surfaces and the Klercide™ and Klerwipe™ range.
Use biocides safely. Always read the label and product information before use.
Related Cleanroom Solutions
Learn more about how Ecolab's Cleanroom solutions can help your facility produce safe, compliant products that exceed patient standards, measurably improve operational efficiency and help achieve sustainability goals.
No related solution pages were found.