Ecolab Launches Multi-Level Laundry Protection Program PROTEX360°
Integrated solutions to ensure safe and efficient execution of laundry operations and re-opening after the COVID-19 pandemic and beyond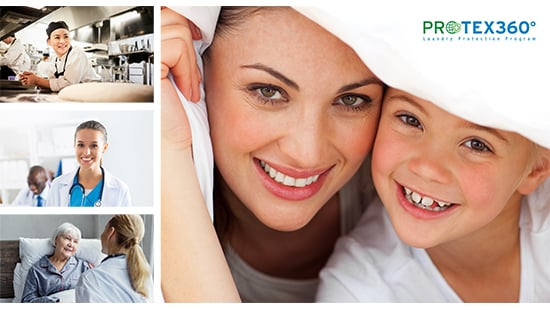 Wallisellen, Swizerland - June 10, 2020 - Ecolab Inc., the global leader in water, food safety, and infection prevention technologies and services, has introduced PROTEX360°, a program that helps commercial laundries and textile rental companies to re-open operations safely and achieve 360° protection.
PROTEX360° stands on five solid pillars: textile washing solutions, hygiene plans to protect linen, people and facilities, BIO-contamination control, technical support and training. This five-pronged approach helps ensure the successful protection of textiles and safe, efficient re-opening and management of the laundry.
"Since the beginning of 2020, the outbreak of the COVID-19 pandemic has had an unprecedented impact on the entire world, especially the way people live and think," said Patrice Sarrazin, global senior portfolio manager for Ecolab Textile Care in Europe. "In response to this situation, Ecolab's Textile Care team of experts has looked to identify solutions that can help our customers and the wider industry combat the pandemic, reinforcing the important role hygiene plays. With PROTEX360°, we can provide laundry operations with the necessary tools and resources to maintain on-going safety after an outbreak, lock-down and beyond."
The proper cleaning and disinfection of textiles is an essential part of an effective infection prevention and control program. The textile washing pillar of the PROTEX360° solution reinforces the importance of safe and clean textiles and provides laundries with guidance to achieve a broad efficacy spectrum of disinfection (bacteria, yeast, fungi, virus) using the D+ registered processes. For example, following the new BPR regulation, a process efficient against viruses must respect the EN 14476 norm.
---
"The perception of clean, germ-free and hygienic textiles has never been more important than it is today. Only clean is not enough anymore. Being able to adapt hygiene protocols to "the new normal" post-COVID-19 outbreak, and communicate efforts effectively has become one of the highest priorities. "
---
Valentina Fontana Ecolab
Marketing Manager South and project manager of PROTEX360° Laundry Protection Program
Hygiene protocols are fundamental to help guarantee environmental health and safety in the workplace. The hygiene plan pillar within the PROTEX360° Laundry Protection Program provides guidelines, protocols, and procedures for ensuring the safe use of chemicals needed to clean and disinfect the different areas of the laundry facility.
Hygiene standards in the contamination risk during and post-wash are the critical ingredients of the BIO contamination control pillar of PROTEX360°. We can support laundries in their certification path (to either follow RAL guidelines or EN14065 and/or EN 14698 norms) combining knowledge and training by Ecolab's team of experts to set up, monitor and adapt the right hygiene protocols.
"The perception of clean, germ-free and hygienic textiles has never been more important than it is today. Only clean is not enough anymore. Being able to adapt hygiene protocols to "the new normal" post-COVID-19 outbreak, and communicate efforts effectively has become one of the highest priorities" explained Valentina Fontana, a project manager of PROTEX360° program at Ecolab. "Patient and consumer safety starts at the laundry, and we are ready to support our customers in providing cleaner, safer and healthier environments."
To learn more about PROTEX360°, visit the program page
About Ecolab

A trusted partner at nearly three million commercial customer locations, Ecolab (ECL) is the global leader in water, hygiene, and infection prevention solutions and services. With annual sales of $13 billion and more than 45,000 associates, Ecolab delivers comprehensive solutions, data-driven insights and personalized service to advance food safety, maintain clean and safe environments, optimize water and energy use, and improve operational efficiencies and sustainability for customers in the food, healthcare, hospitality and industrial markets in more than 170 countries around the world. www.ecolab.com