Creating a Clean Environment When Administering Vaccines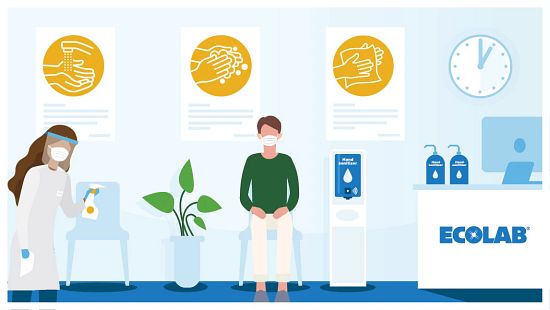 Some say the "last mile" of any endeavor is the most challenging, and that's where we find ourselves now. As we move from development, testing and manufacturing of COVID-19 vaccines to the next phase of transport, storage and administration, we face new challenges. Around the world, we'll need to stand up vaccination clinics that provide safe, efficient vaccine administration to a staggering number of people. There are many good resources available to provide guidance on how to set up and oversee these vaccination clinics, focusing primarily on best practices for safe vaccination storage and administration. But on-site hygiene also is important – especially as we consider the scale and scope of vaccination clinics in non-healthcare settings.
Here are my six tips for creating a more hygienic environment for vaccinations:
Make training for hand hygiene and environmental hygiene easy and on-demand.
We'll be coordinating large vaccination clinics for many months to come, which means we'll need to train new staff and refresh training for existing staff. Best practices related to hand hygiene and environmental hygiene should be a key component of any training provided. In-person and digital options, along with printed reminders of processes throughout a facility, can help staff stay up to date on best practices.


Plan for the right quantities of hand soaps and disinfectants.
Staff should wash or disinfect their hands before each vaccination, between patients, anytime gloves are removed, and whenever their hands become soiled. To increase use, ensure there is enough hand soap and disinfectant on-site and that it is available in places where it is most needed.


Make hand hygiene solutions available at the right places.
Once you've ensured you have enough hand hygiene products available, make sure it is readily accessible, along with tissues, masks and wastebaskets, throughout the clinic – in both staff and patient areas. Each vaccination station should be stocked with hand disinfectant for the staff to use. In addition, you should place hand disinfectant in patient registration, waiting and recovery areas. Flexible point of care hand disinfectant allow you to place hand disinfectant almost anywhere. Additionally, high-quality products with emollient-enriched formulas have the added benefit of supporting skin health, reducing the opportunity for skin irritation with frequent use. Lastly, you can arm staff with personal sized bottles of hand disinfectant that they can carry around with them so that they have disinfectant on hand wherever they are.
How much hand disinfectant do I need?
While only one pump is needed for Ecolab products with controlled dispensing, people often dispense two or more pumps, so you may need to factor in extra for that possibility. For example, if you are planning to vaccinate 500 patients on a given day, you may need a minimum of 1,000 doses of hand disinfectant for the staff alone, and another 500 doses if each patient performs hand hygiene once. So, you could assume that you will need a minimum of 1,500-1,800 doses of hand disinfectant on hand for every 500 patients vaccinated.
Clean and disinfect frequently touched surfaces on a regular schedule.

Clean and disinfect vaccination stations every hour at a minimum, as well as between patients, shifts and if the stations become visibly soiled.


Determine a cleaning schedule to frequently clean all patient service areas, including registration, screening and post-vaccination monitoring areas.


Make sure you have enough staff and that they have clearly defined areas of responsibility when it comes to cleaning and disinfecting.


Focus on frequently touched objects and surfaces such as counters, plexiglass shields, workstations, keyboards, telephones, chairs, tables and doorknobs.


With large crowds and demand for fast turnover, cleaning between patients and shifts may seem difficult. Use presaturated wipes and ready-to use solutions that can help minimize the time and effort needed to perform between patient cleanings, helping safely and efficiently move patients through.


At the end of the day, between hours of operation, it's important to conduct a thorough terminal clean. Using an electrostatic spray surface disinfectant with a fast kill time is an effective and efficient cleaning option. Additionally, a total decontamination solution can ensure that the entire area is thoroughly disinfected and ready to re-open. Automated hydrogen peroxide vapor decontamination technology can help ensure every exposed surface in an area receives a six-log sporicidal kill (99.9999% reduction), adding an extra layer of assurance and eliminating the risk of human error during the disinfection process.
Bioquell is Ecolab's hydrogen peroxide vapor decontamination technology.
Use the right disinfectant for the right amount of contact time.
Use a disinfectant that has proven efficacy against enveloped viruses, according to standard EN 14476 in Europe, or is on the U.S. EPA's List N of Registered Antimicrobial Products for use against Novel Coronavirus SARS-CoV-2, the virus that causes COVID-19. Ensure that all staff know the contact time for the disinfectant and how to apply it according to the manufacturer's instructions. For example, if the contact time for a product is 10 minutes, but you wipe it off immediately after application, it likely will not be effective at killing the virus.


Communicate regularly to build confidence and ensure compliance.
Total hygiene is a team sport, and it all starts with good communication. Everyone has a role to play – including patients. Clear signage and well-trained staff will help people feel confident and comfortable that you are doing everything you can to keep an environment clean.

I hope these tips help you provide a hygienic environment in your vaccination clinics as you cover this "last mile" in the race to end the COVID-19 pandemic.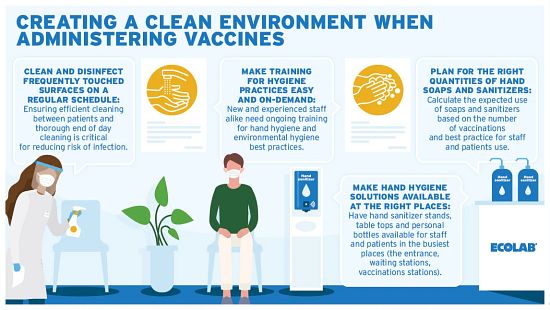 Infographic Download: Creating a Clean Environment When Administering Vaccines
Ecolab Resources and Product Information