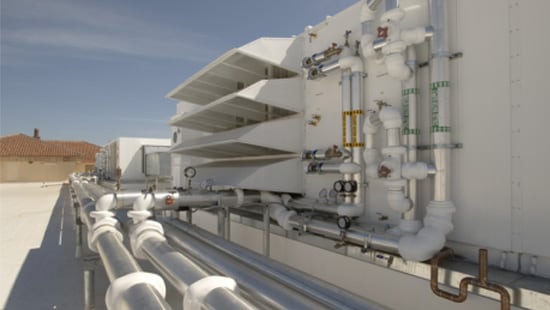 HVAC Air Filtration
Our goal is to improve your HVAC system performance and indoor air quality cost efficiently. Highly trained air filtration specialists will survey your HVAC systems and tailor air filtration solutions based on your goals and the operational conditions. Goals can be qualified, such as minimizing filter and energy cost, improving cooling capacity and indoor air quality, reducing the waste stream, and reducing the facility's carbon footprint.
How Our Approach Can Help Solve your HVAC Air Quality Challenges
Selection of the Best Filter Technology/Solution 
Once we understand your operational goals we select the best filter technology/solution to meet your needs. We do not represent any specific filter manufacturer, which so our engineering approach allows us to select from a large filter portfolio that leverages the newest technology advances. We make new filter solutions available to you for continuous operational improvements.
Managing Filter Life Cycles
The filter life cycle is determined by the type of filter media, the quantity of filter media per square foot of filter face area (called filter surface area) and the design/construction of the filter. All Nalco filters are designed for a long filter life, reducing the required filter replacement cycles. The life for a specific filter can vary widely based on the account and operational conditions.
Most facilities have traditionally managed the replacement cycles of air filters by adhering to industry standards, which often provide a poor rule of thumb for filter management. Loading conditions depend on a lot of factors, such as ratio of return air and make-up air, air quality, fan run hours, air velocity or air filter design. Using industry standards alone as a guide can lead to a high potential for untimely filter replacements, not to mention high energy penalty costs for longer filter replacement cycles.
Nalco Water EHS is setting new industry standards by managing filter life cycles. Nalco Water determines the optimum time point of filter replacements for the specific account conditions and your operational goals by analyzing the total cost of operation (annual use cost/filter, labor cost to replace filter, energy penalty for longer filter life, disposal cost/filter). This value-driven approach is focused on implementing the lowest total cost of operation (TCO).
Monitoring Filter Life and Performance
Maintaining a low TCO and consistently meeting your indoor air quality goals depend on regularly monitoring the cleanliness of the coils, filter efficiencies, proper filter replacement cycles, filter installation quality and change in operational conditions.
Rather than promising filter performance based on product bulletins and laboratory test reports, the EHS team will monitor filter performance and TCO commitments in your specific HVAC application. Filter life cycles can be determined based on pressure drop and particle removal efficiencies. Quarterly monitoring reports give you the opportunity to review whether the filter management program is on track meeting your operational goals.
Nalco Water Filter Technology Significantly Reduces Energy and Maintenance Costs
Low airflow resistance is the primary energy-efficiency driver in all Nalco Water filter technologies. Low resistance means low pressure drop, and enables reduced fan energy consumption. Whether for industrial or commercial high performance applications, these filters have unique microstructures that effectively capture and retain particles. Nalco Water filters are designed for extended service life, reducing filter changeouts.
Surprisingly, the cost of energy used by filters far outweighs the price of the filter itself…often by a factor 10 or more. In fact, energy accounts for over 80% of a filter's life cycle cost. The efficiencies of Nalco filters can significantly reduce this cost without sacrificing filtration effectiveness.
The U.S. Green Building Council has established the Leadership in Energy and Environmental Design (LEED) system to quantify progress toward environmental sustainability goals. Nalco filter systems support this initiative, and cost-effectively enable sustainable development for any type of commercial building.
Efficient operation of HVAC or refrigeration systems not only delivers clean, fresh air for those who occupy your building, but can substantially lower your operating costs and increase your production efficiency. In fact, facilities using Nalco Water technologies (Coil-Flo and air filters) have demonstrated annual energy savings of up to $.20/square foot and more…while improving interior air quality by as much as 85%.
Programs, Products, Equipment and Services
Explore our HVAC Air Filtration Offerings
We couldn't find any results for "".