Global Handwashing Day 2020
Help practice good hand hygiene everywhere it matters.

This year on Global Handwashing Day it's important to remember why we wash our hands. As the COVID-19 pandemic continues and flu season begins, we must all do our part to practice good hand hygiene.
Good hand hygiene is critical to stemming the spread of bacterial and viral infections. Frequently washing your hands and using proper protocols is something we can all do to help protect public health and can reduce the risk of respiratory infections by 21%[1].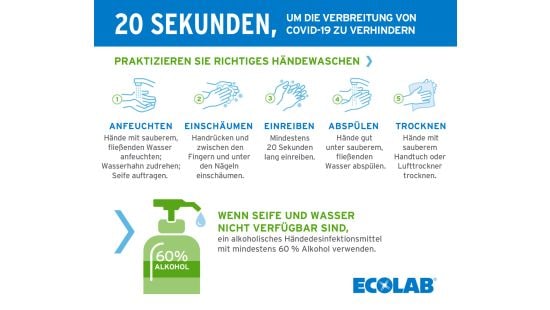 Image caption: PRACTICE PROPER HAND HYGIENE
Wet hands with clean running water, turn off the tap and apply soap.
Lather the backs of hands, between fingers and under nails.
Scrub for at least 20 seconds.
Rinse hands well under clean running water.
Dry hands using a clean towel or air dryer
IF SOAP AND WATER ARE NOT AVAILABLE, use an alcohol-based hand sanitizer that contains at least 60% alcohol.
Here is a list of resources that can help you and your business practice good hand hygiene.
Learn more about how Ecolab is helping business build resiliency to the COVID-19 pandemic.
For more information, visit our Clean Hands page.