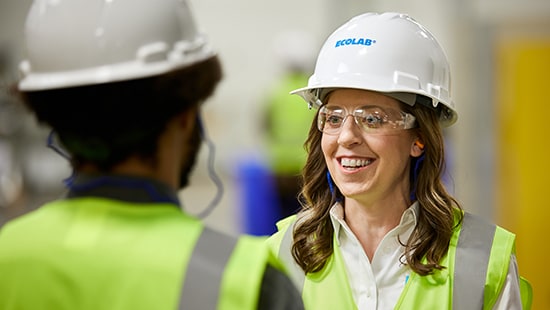 Safety and Health
We are Committed to Safety Excellence

From the way we operate to the products we develop to the customers we serve, our commitment to safety is uncompromising. We strive for zero incidents, reducing risk and empowering team members so that everyone goes home safely at the end of the day, every day.
In 2021, We Continued Our Commitment to Safety Excellence
Safety On the Road
Protecting our associates when they are on the road is one of our highest priorities. Ecolab's more than 25,000 sales-and-service associates regularly drive to and from customer locations. Vehicle safety is one of the ways that we measure our overall safety performance.
As a result of our expanded predictive driver safety program, which helps us learn more about what puts a driver at risk and how to prevent accidents, we have reduced our total vehicle accident rate by 23% per million miles driven since 2019. Our severe vehicle accident rate remains lower than the benchmark, at 0.08 accidents per one million miles driven.
More than
16,000 Drivers
Used the Virtual Risk Manager MentorSM driving application in 2022 to improve their driving behaviors for enhanced safety on the road.
Safety Through Training
Training plays a major role in our efforts to reduce accidents and injuries. In 2021, our personal injury rate decreased 15%* and our lost-time injury rate decreased 6%**.
---
Training for New Hires
Every Ecolab division provides basic safety training to newly hired sales and service personnel.
In 2021, 89% of new hires completed the training within their first 30 days of employment.
---
*Reflects 2021 data compared to 2019 data from global sites
**Reflects 2021 data compared to 2019 data in North America
47% Decrease
In total recordable incident rate since 2013, globally
35% Decrease
In lost-time incident rate since 2016, North America
36% Decrease
In total vehicle accident rate since 2013, globally

63% Decrease
In severe vehicle accident rate since 2013, globally
See Our 2022 Sustainability Progress Report