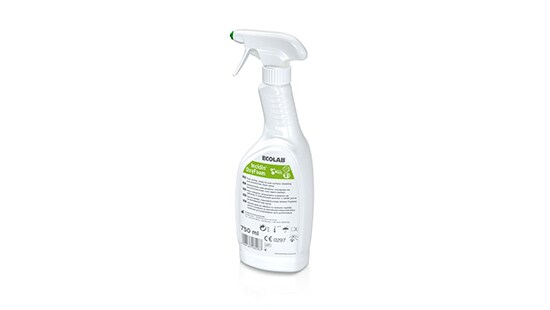 Incidin™ OxyFoam
Ready-to-use cleaner and disinfectant with Hi-speed H2O2™

The advanced formulation of Incidin™ OxyFoam provides the benefits of a patented hydrogen peroxide solution with broad spectrum efficacy. They are effective against a wide range of pathogens and leave no active residues due to their rapid evaporation rate.
Product Details
Incidin™ OxyFoam provides:
Hi-speed H2O2™
Active ingredient decomposing into water and oxygen
Excellent material compatibility


Our performance
Your advantage
Effective
Broad spectrum efficacy
Short contact times
Safe
Active ingredient decomposes into water and oxygen
Excellent material compatibility
Convenient
Cleans & disinfects in one step
Excellent material compatibility
Application area
Fast acting, sporicidal ready-to-use surface cleaning and disinfection.
acc. Directive 93 / 42 / EEC: for medical devices.
Biocide: for general surfaces.


Instructions for use
Wet surface or apply to clean wipe. Wipe the surface, ensuring the surface is completely wet for the contact time. Or use product undiluted on a clean wipe, wipe the surface and let dry. Do not rinse.
The use of a cleaning and disinfection product does not replace regular cleaning. Not for terminal disinfection of invasive medical devices. For reprocessing of medical devices always observe manufacturers' instructions for use. Do not use on surfaces sensitive to oxidative agents such as marble, copper or brass.
Ingredients
100 g contains the following active:
Incidin™ OxyFoam: 1.5 g Hydrogen peroxide
Storage
Product should be stored in the original container below 25°C in a cool, dry location out of direct sunlight.
Shelf life after first opening:
Incidin™ OxyFoam: End of expiry date
For more information please refer to the product label/SDS.
---
acc. Directive 93 / 42 / EEC: for medical devices.


0297
---
Use biocides safely. Always read the label and product information before use.
SEE OTHER READY TO USE AND CONCENTRATED PRODUCTS FOR SURFACES DISINFECTION
Please see below related offerings: