Ecolab Opens Training Center in Germany
First training center in Europe for technicians and customers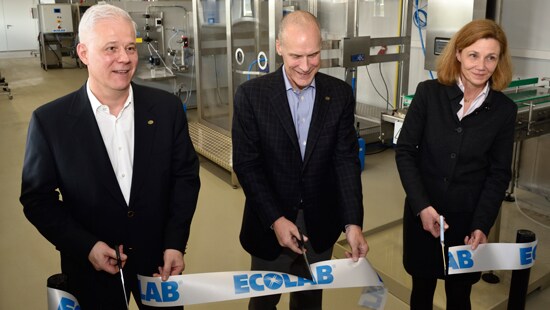 Ecolab opened its first training center in Europe, reinforcing the company's commitment to having the industry's largest and best-trained sales-and-service force. The new training center, in Monheim am Rhein, Germany, provides an optimal environment for the technical training of Ecolab's field team as well as customers from throughout Europe.
"Through our investment in the new purpose-designed center, we aim to provide our people with the highest level of training and retain and attract the industry's most talented workforce," said Halit Kayatürk, senior vice president and market head of Market Central for Ecolab. "The center enables us to train them under real-life conditions on our technical services and equipment. By doing so, we are helping to ensure that we continue to provide our customers with the best on-site service and to effectively solve any operational challenges they may face."
Ecolab's Europe Training Center has separate areas for Ecolab businesses – Food & Beverage, Food Retail Services, Healthcare, Institutional, Nalco Water, Pest Elimination, Quick Service Restaurants and Textile Care – consisting of hands-on training stations with technical equipment that is utilized at customer sites. A typical training session will cover the fundamentals of the business, equipment installation and trouble-shooting, and product application and cleaning procedures. The center has the capacity to train up to 3,000 associates and customers each year.
Ecolab's Monheim am Rhein facility is its largest in Europe and in addition to the new training center, the site is home to the company's European Innovation Center (EIC), one of eleven Ecolab research and development centers globally.  The EIC has a team of more than 100 scientists focused on developing new solutions to the operational and sustainability challenges our customers face.