Focus on water: Ecolab supports education program on water conservation and hygiene in Germany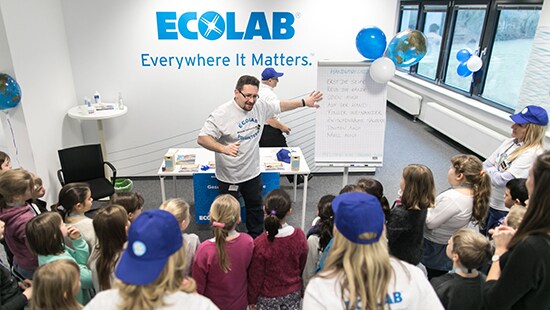 Ecolab, the global leader in water, hygiene and energy technologies and services, has launched its water-focused educational curriculum in German for use throughout Germany and other German-speaking regions.
Developed in partnership with the Project WET Foundation, a global nonprofit water resources education organization, the Clean and Conserve Education Program is designed to teach children ages four and older about the importance of water conservation and hygiene. After the successful launches in the United States, Mexico and China, the interactive curriculum, activity booklets and materials are now also available in German. "Water is one of the most valuable resources on earth," says Halit Kayatürk, SVP and Market Head, Germany & Switzerland. "Our personal water use and the way we live affects the lives of many others. The Clean and Conserve program aims to raise awareness and provide practical training for water conservation for students and teachers."
Kick-off with a water festival for second- and third-graders
As part of the launch in Germany, on 8 February, Ecolab welcomed students at its site in Monheim am Rhein for a water festival. During the event, more than 100 children from Monheim's primary school Lottenschule became "water stars" and engaged in age-appropriate activities about hygiene and the use of water as a valuable resource.
"By following simple hygiene measures such as washing hands properly, young children can effectively prevent the spread of germs, while saving water," explains Thorsten Suess, one of the Ecolab employees who engaged with the children.
Volunteers to visit schools as water and hygiene ambassadors
As part of the program, more than 25 Ecolab employees completed a training conducted by Project WET to become water and hygiene ambassadors. The ambassadors will visit schools to show young people through playful, interactive activities how they can take action and contribute to a positive water future. "The employees do this voluntarily in their free time, and the program is aligned with the schools and tailored to their specific needs," said Senior Program Manager, International, Project WET Foundation. "The activities are designed to be easy to implement and to complement existing curricula." Free teaching resources will also be made available to schools in print and online through the Project WET Foundation website at www.projectwet.org/cleanandconserve.
The partnership with the Project WET Foundation is part of Ecolab's Solutions for Life program, which enhances the company's work to conserve water and improve hygiene around the world through partnerships with leading NGOs, global philanthropy and employee volunteerism. Ecolab's partnership with the Project WET Foundation began in 2014, when the Ecolab Foundation committed $1.5 million to the organization to develop a hands-on student curriculum on water conservation and the role that water plays in maintaining good health through proper hygiene. Since its start, more than 275,000 students and 5,800 teachers participated in the program.
Contact
Miriam Petrowski
Corporate Communications Lead Market Central (Germany and Switzerland) 
T +49-2173-599-1196 E miriam.petrowski@ecolab.com
About Ecolab
A trusted partner at more than one million customer locations, Ecolab (ECL) is the global leader in water, hygiene and energy technologies and services that protect people and vital resources. With 2015 sales of $13.5 billion and 47,000 associates, Ecolab delivers comprehensive solutions and on-site service to promote safe food, maintain clean environments, optimize water and energy use and improve operational efficiencies for customers in the food, healthcare, energy, hospitality and industrial markets in more than 170 countries around the world. For more Ecolab news and information, visit www.ecolab.com.
Follow us on Twitter @ecolab or Facebook at facebook.com/ecolab.